I am immensely passionate about the arts and the work I undertake with others. My previous twelve years experience in the youth and community arts sector has taught me an amazing amount about myself, others and creativity. More recently (over the last five years) working as a freelancer on a wide array of creative projects and workshops delivering to people of all ages.
I am a free thinker and positive individual and my boundless enthusiasm allows me to affect others around me in a positive way. I pride myself on being a diverse character with an almost endless supply of energy and passion. This energy is applied to all the creative projects I plan, facilitate or deliver. My broad range of experience and artistic skills within many art forms is one of my greatest strengths. I can call upon these endless ideas and apply them to a project allowing me to inspire and inform others.
My experience includes working with a diverse range of people and issues, including those with;
Additional needs and disabilities

Mental health issues

Self-esteem and confidence issues

Substance misuse concerns

Living in areas of depravation

Having problems accessing educational provision

Struggling with relationships

Young parents

Behavioural issues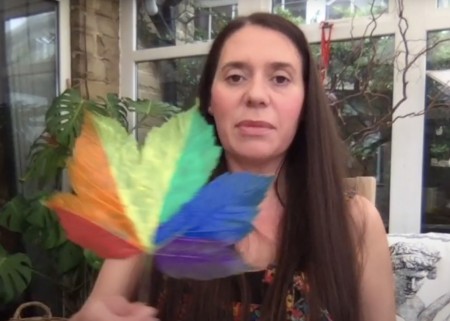 My Story:
My passion for all things arty started at a very early age, I spent hours and hours drawing and making weird and wonderful creations.
I studied GCSE Art and Design at Brookfield Community School in Chesterfield, Derbyshire. I loved every minute of this experience and knew from this that I wanted to pursue a career in art. However, I found it very hard to specialise in just one art form. I discovered that I had a talent for many types of art and design and loved mixing them together. During the last year of my GCSE'S I decided to go to Chesterfield College night school and study GCSE Photography. This was very beneficial to my art work especially when working within mixed media.
After my GCSE'S I decided to stay on at school in the 6th form where I studied A-Level Art, Sociology and Theatre Studies. I honed my drawing, painting, mixed media and photography skills during this period, and tried many new art forms. I also participated in all the school musicals and often had lead roles.
After studying my A-Levels I decided that I wanted to go to University to study art. Because of this I went to Chesterfield College to study BTEC Foundation in Art and Design. This course taught me so much in terms of different art forms, I worked within printmaking, sculpture, drawing, photography, and textiles. After this period I decided to specialise on Photography as my main art form.
My passion for photography then developed even more, and because of this I decided to study Photography at Derby University. Although I specialised in photography I still practiced many other art forms in my spare time.
After my time at University I reviewed my skills and passions and decided that I didn't want to just concentrate on photography. Because of this I did not pursue a career in this field. Instead I got a job as a trainee graphic and website designer. This enabled me to develop skills in digital technology relating to the arts. This experience became invaluable to me as I started to learn how to use my artistic ability within the digital age.
After working as a Graphic and Website Designer for a number of years I felt that I needed a change. I wanted to use all my creative abilities within a vocation, as working in an office environment just wasn't fulfilling. After much research and many job searches I realised that the arts was limited in terms of jobs, especially in my small town. This is when my sister gave me the idea of working as a young worker – within this job I could use all my creative skills.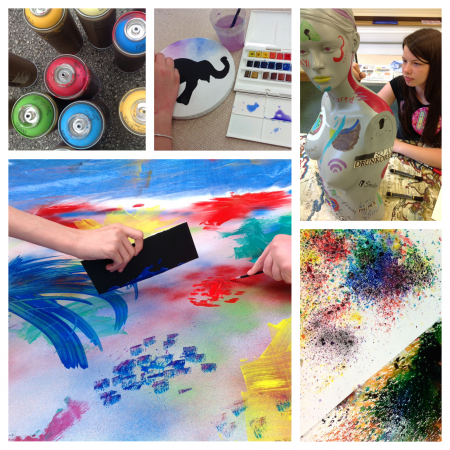 I decided to start by volunteering as a youth worker at a girls club in Brampton, Chesterfield. After just a few months I knew that this vocation was the right one for me. I loved every minute of the job, and was able to use all my art skills and creativity. After securing a position as a Youth Support Worker I worked with many groups of young people in many different situations and environments. This lead to my position as Youth Worker in Charge.
After working within the youth service for about three years I was contacted by the manager of the Youth Creative Arts Team. He asked if I could run a creative arts group at Dount Creative Art Studios (DCAS). Obviously I was delighted, as I was looking out for jobs within this sector for over a year. The creative arts session that I started (ArtBox) has gone from strength to strength, it is still running 12 years later – with up to 30 members per week! Giving me more experiences working in many art forms with a wide variety of young people.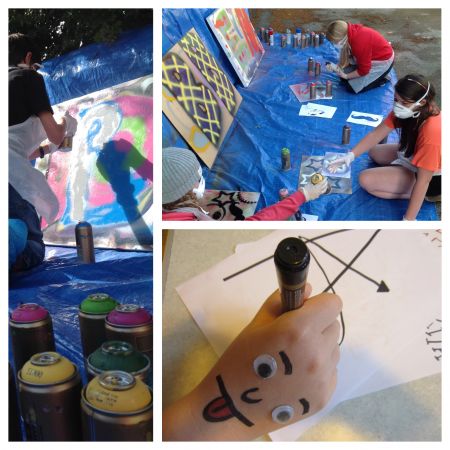 I am now the Creative Arts Youth Development worker and Centre Manager at Donut Creative Arts Studio (DCAS) and have been growing in this position for many years. My experience has not been limited to art alone – drama has been another element of the programme at DCAS. I have called upon my previous roles within plays and musicals which has enabled me to grow, I have developed, written and directed plays for the DCAS Youth Theatre group. My art skills are also put to great use creating costumes, props and scenery for the shows. I cannot articulate in one paragraph the amount of wonderful, creative and inspiring projects I have been a part of at DCAS – it has truly been the making of me, creatively. Working alongside the greatest individuals and making a real difference within young peoples lives.
My freelance work over the last six years has also been a wonderful experience, working with a range of people of all ages to deliver epic creative projects. I have offered creative workshops during the children's holidays in and around Chesterfield and Derbyshire. These projects include 'Creative Experiments', 'Parents & Kids Workshops', 'Graffiti Art Workshops' and much more. I have worked on artist commissions, lead exhibitions, co-designed and painted murals, worked on many street art inspired projects, delivered in schools and more! Collaborating and working with multi agency teams, charities, councils, youth groups, third sector organisations and arts organisations in Derbyshire is also another area I have gained much experience.
Three years ago I became a Trustee on the board for Junction Arts which is a wonderful community arts charity based in Chesterfield, Derbyshire.
I have continued my love for all things arty by practicing many art forms in my spare time and undertaking many art courses. These courses include life drawing, jewellery making and silversmithing. I continue to strive for varied experiences in art and design, and look for new art forms to try and develop.
Working with people in the arts is what drives me and is an important part of what makes me 'tick'. Having a positive impact on the lives of others through the arts is invaluable and should never be underestimated.