Creative Workshops
Due to my vast experience delivering in a variety of places to a range of people I can plan, deliver and facilitate an extensive range of creative arts workshops, projects and sessions. I can provide workshops tutoring young people and adults in a range of art forms, messy workshops for experimenting and having fun and craft workshops too. I have included a list of past and current projects below to give an idea of the wokshop's I can provide. This is not an exhaustive list and many creative projects can be tailored to suit any theme or timescale. These sessions can also link into many areas of life and education such as culture, IT, protecting the environment, reusing & recycling, issue themes such as relationships, drugs and alcohol and many more.
The projects below can be delivered on a variety of different levels and can include accreditation in the form of the Arts Award. For more information about these custom packages please feel free to contact me.

Printmaking
Monoprinting
I offer a range of printmaking workshops creating mono prints in a variety of ways; using natural elements such as leaves and flower and plastic bag printmaking. This can be done with a wide range of materials onto paper, fabric and card.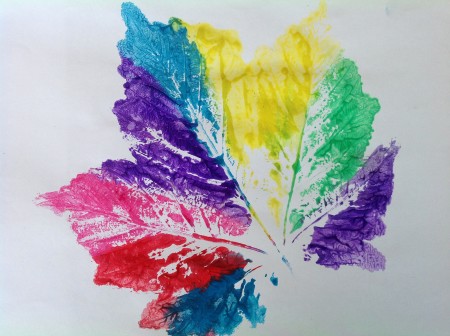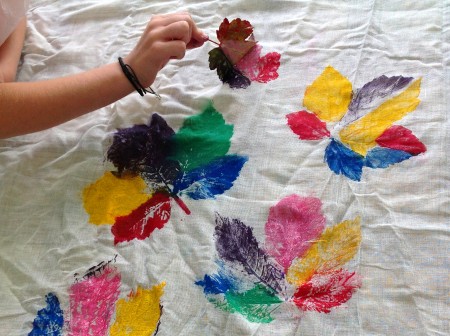 Polystyrene Sheet Printmaking
Using sheets of polystyrene to design an image which can be printed in many colours. Individuals can experiment with combinations of coloured prints and produce many prints. This workshop works well with all abilities as students can trace images or design/draw their own.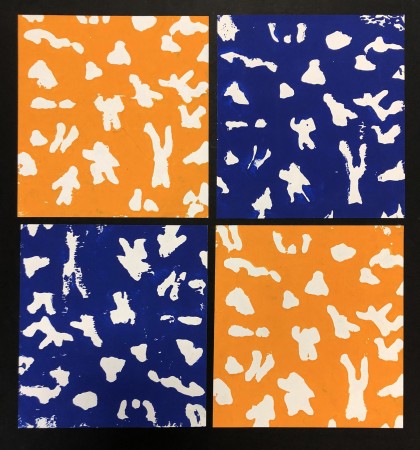 Linocut Printmaking
Using lino as the relief surface a design is cut out to create prints in a variety of colours. This workshop is a more advanced form of printmaking a suitable for those with a good cutting out skills. The lino can be saved and used multiple times.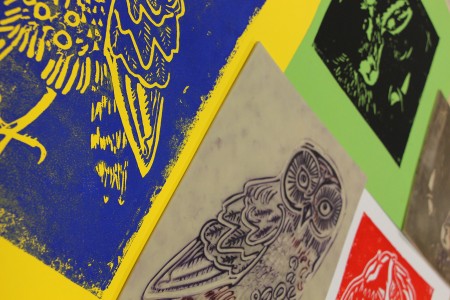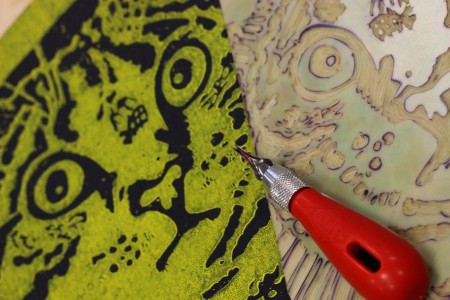 Collage Printmaking
Using either polystyrene or lino sheets to print onto collaged items and create a mixed media piece. This printing technique allows the individual to experiment with combinations of colours and textures.



Hand and Feet Painting Exploration
An expressive and experimental workshop were kids and young people can get messy. Can be used with large paper taped to the floor or on tables with smaller paper. This activity is suitable for a wide variety of ages and really allows that creative expression to flow.

T-Shirt Printing/Stencilling
This unique workshops used spray paint and stencils to create unique one of a kind t-shirts. This activity can be accessed by young people and children aged 8+ and is a great one for teenagers.

Mannequin Issue Art
This workshop is a great tool to explore a wide range of issues with young people. They use the mannequin as there canvas, and a mixture of words, images and colour designs to bring it to life. This workshop is always memorable, unique and is great to get people talking.

Leaf Printing
A wonderful nature themed workshops that goes down really well with a wide variety of ages. Using leaves and paint to create a creative one of a kind print onto paper or fabric.


Wizard Sticks
Young people can create colourful unique wicked wizard wands using sticks and paint pens. Another activity that works well with a wide variety of ages and can be accessed by a range of abilities.


Rock Painting
This very popular workshop is a perfect activity for issue based art work. Linking with the project "Mental Health Rocks' the artwork created on the rocks can provide positive messages to people around mental health. Alternatively you can choose a different issue to base the creative work around or just make beautiful rocks for decoration. This activity can be accessed by a wide range of ages and abilities by using different materials to allow participation.


Shaken Container Art
Using jars & items such as pom pom's, buttons & marbles with paint. Shake the jar & create your art.

Squirt Gun Painting
Using small water pistols full of paint to create beautiful abstract pictures. Ideal fun summer activity.


Paint Spin Tops
Creating spin tops from recycled plastic lids and kebab skewers and filling them with paint. Spin the top and watch in amazement at the wonderful splatter patterns it creates on your paper.


Bubble Art
Another wonderful summer activity using paint and bubbles. Blow the different coloured bubbles and catch them on your paper. Watch the awesome circle patters and shatters it creates.

Pulled String Art
Using string dipped into paint and placed onto paper, fold the paper over and apply pressure, then just pull the string out slowly and observe the beautiful symmetrical patterns its creates.


Homemade Paintbrushes
Making our own paintbrushes using pegs and a wide range of items such as leaves, bubblewrap, pipe cleaners, sponges, foil and what ever else we can find! Then use these wonderful creations to get different effects in your painting.


Gravity Painting
Exactly what it says on the tin – using pipettes and paint to create beautiful drip art work using nothing more than gravity and imagination.


Bubble Wrap Painting with Feet
This workshops is very messy but VERY fun! We tape bubble wrap to our feet and lay out large pieces of pep on the floor. Each person steps into paint and then using our feet we create wonderful pictures together.



Toy Car Art
This workshop uses large paper, toy cars/trucks and paint. The kids can play with the cars and create bright art work at the same time. A great fun and active workshop for young ones.


Experimental Bicarb & Vinegar Art
This hands on workshop is a wonderful creative science experiment. Mixing bicarbonate of soda, vinegar and paint and watching the bubbles create unique one of a kind prints onto paper.

Blow Hair Characters
This is a fun activity for younger ones using a range of character faces and paint. This workshop can be tailored to suit the age and interests of the group; it can be explored using superhero faces or any face you like!

Household Products & Paint Experiments
Just like the bicarbonate of soda, vinegar and paint experiment this workshop uses a wide range of safe household products and paint. The effects and art work created is wonderful and unique. Children and young people always love to explore science and art!

Paint Blob Creatures
This is a spin on a classic kids painting activity. Young people can use the folding technique with wet paint to create abstract patterns and shapes. They will then search their pictures for images or something it reminds them off. Then using pens they will add the detail that shows and develops their ideas. A great activity to stretch imagination.

Shaving Foam Marbeling
A fab messy activity that can be used with a wide variety of ages. The young people use shaving foam and paint to make beautiful one of a kind marble prints. This activity explores messy art and science to enable the young people to be creative and explore the arts.

Art Forms
Below is a list of more art forms I can deliver in;
Stencil Graffiti Art – Lettering
Creating graffiti art pieces for each individual using letter stencils and spray paints. This workshop is a great introduction to graffiti art and can be delivered to a variety of ability levels.


Stencil Graffiti Art – Images & Lettering
Creating individual or group pieces of graffiti art using lettering and image stencils and spray paints. This workshop can be done as one off or multiple sessions and allows a group to work together. Pieces of work can be created to suit a theme or project.


Freehand Spray Painting
Practice using spray paints on large boards – create lettering and image designs. This workshop will improve your spraying technique.


Expressive Arts Workshops:
Fruity Faces Workshop – Using fruit and vegetables to create faces and characters.
Paint Bombs Canvas Workshop – Using paint filled water balloons to create abstract pictures full of colour.
Abstract Figures Workshop – Drawing around individuals on multiple pieces of paper and using paint to create an abstract piece with figures as the starting point.
Lyric Art Work – Using our favourite lyrics to inspire a art work.
Mask Making – Creating masks from a variety of materials and can be based around many cultural topics and bring in the element of reusing and recycling.

Creative Experiments Workshops:
Working with a wide range of materials to enable students to experiment with the process of art – not being as concerned with the end result but the fun of creating. Many people feel they are unable to 'do art' because they are not happy with the standard of their work and often compare it to others. These workshops encourage students to try new exciting activities using sometimes strange household items, weird and wonderful techniques. Examples of these workshops are included above.


Drawing Workshops:
These workshops can be tailored to suit the needs of the participants, below are just a few areas that I cover:
Basic Drawing Skills 1 – Learning to see and how this informs our drawing.
Basic Drawing Skills 2 – Outline & shading techniques and its importance within drawing.
Intermediate Drawing Skills – Light & form and how this informs our artwork.
Still Life Drawing – Drawing items grouped in a still life and learning about how to do this successfully.
Painting Workshops:
These workshops can be tailored to suit the needs of the participants, below are just a few areas that I cover:
Basic Painting – having fun with paint and learning to express ourselves through this medium.
Intermediate Painting – learning about colour theory
Watercolour Painting – learning about watercolours and using them effectively.
Painting to Music – expressing ourselves through abstract painting to various pieces of music.
Painting to Express Ourselves – looking at ourselves and using this to create a piece of work with paint.
Abstract Painting – looking at how to create abstract paintings
Life Size People Paintings – create life size people in any style you like.


Multimedia Workshops:
Digital Art
Mixed Media Workshops:
Using Mediums & Layering
Using Photography & Paint
Mosaic
Working as a group to create a piece of art from tiles and reusable items such as buttons and plastic lids. This workshop can be designed to suit a specific themes and can suit a variety of abilities.
Lyric Art
Using a song or lyrics from a song as inspiration for a piece of art. This can be literal – where you use the actual words in the piece, or based on the images and thoughts the song conjures up. A fun and inspiring workshop that can be delivered to a variety of abilities.
Name Art
Using your name as a starting point to create a piece of art work. There are various styles and methods of doing this exploring a variety of mediums and techniques within art and design. This workshop can be delivered to a variety of abilities.
Tattoo Design
Creating your own tattoo by altering a tattoo drawing, adding to a tattoo drawing or combining two or more tattoo designs together. This workshop can be delivered to a variety of abilities.
Life Sized Superheroes & Villains
Creating a life sized superhero or super villain with special powers and abilities. This workshop can explore a wide variety of issues within society such as bulling and self-confidence, and can be delivered to a variety of abilities.
Old Book Art
Creating a piece of art using an old book or pages from an old book as the canvas/paper.
Drip & Pour Paintings
Using drip and pour painting techniques onto a canvas or piece of board to create abstract paintings. Individuals will practice first on paper or card to get the right mixture and consistency, and then create their design onto a canvas or board. This workshop can be delivered to a variety of abilities.
Brusho Art
Using Brusho (coloured pigment powder that you add water to) to create backgrounds or pictures. Experiment with the medium and all the different ways of using it.
About Me & Life Map Collage
Create a collage using images from the internet, magazines, etc all about you – the things you like, dislike, family, friends, etc. Or create a piece about where you would like to be in the future – what would this future look like and how can make this journey.
Group Abstract Painting to Music
Using a range of music genres and styles to inspire painting. Discuss the different types of music and how it makes us feel, talk about colours and how they can represent emotions, lines and shapes that make us think of specific things. Once the young people have discussed and understand the task start playing the music. Ask the students to paint the colours and shapes that they think of when they hear the music. Students are to create an abstract piece or more literal representation of the music. Possible activity extension: rotate the pictures around the table asking students to add to the picture before them.
Tie Dye T-shirts
Using a variety of techniques to create tie dye t-shirts or other garments.
Please contact me for further information about any ideas you have even if you can find them here!